Building ventilation, which includes windows left open, is the cause for up to 30% of heat loss in commercial buildings. Support UBC Okanagan's long-term goals to reduce energy consumption and GHG emissions by keeping yourself cool and your windows closed this summer.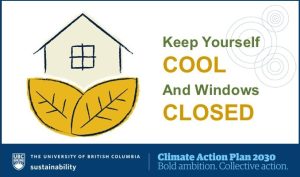 Why Does This Matter? 
Reducing the energy and carbon footprint of the Okanagan campus is a crucial part of UBC Okanagan's Climate Action Plan 2030. Keeping windows open lets hot air flow into the buildings meaning our HVAC system must work extra hard to keep the inside temperatures comfortable.
In addition, leaving windows open in common spaces may make the temperature uncomfortable for those around you. Stay respectful, not wasteful and keep the windows closed.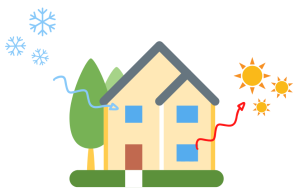 How Can You Get Involved?
See an open window in an empty room?    Close it!
Heading out after enjoying some fresh air right from your desk?    Close it!
Finished fanning out the smoke from your new recipe gone wrong?    Close it!
Dress For the Three C's:   Cool, Comfy, Casual!
Summers in Kelowna are hot, make sure to keep cool on campus. Choose to wear clothing made from cotton or linen, they are light and can be a fantastic way to keep cool as the temperatures rise this summer. Still feeling too warm? Try repositioning your desk to a cooler spot in the room or get some extra shade by closing your blinds during in the early morning and afternoon, avoiding the mid-day heat.
If you need to cool down, drink plenty of fluids. Fill your reusable water bottle at one of many cold-water refill stations found in all campus buildings or consider purchasing a cool beverage from one of UBCO's coffee shops. Look to see what's open around campus: Feed Me – UBC Okanagan Food Services
For more climate action resources visit https://sustain.ok.ubc.ca/policies/cap