A-Z Recyclepedia
Most of UBC Okanagan's waste & material can be diverted from the landfill. Use this A-Z guide as a resource to discover what can be recycled, returned or composted on campus. You can help create a green campus! Use recycling stations to sort your material.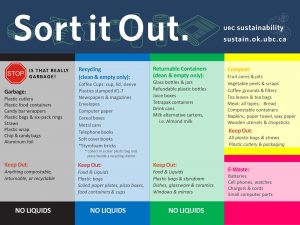 To prevent contamination and subsequent landfill disposal of recyclable and compostable materials, please keep all plastics out of the yellow compost bins and all liquids and food material out of blue and green recycling bins.
Watch a short video on How to Sort Your Waste at UBC Okanagan. *Developed by 2018/19 GEOG491D students.
Download a .pdf copy of the Sorting Guide HERE.
The BC Recyclepedia can help you determine what to recycle and where, off campus.
The Regional District of the Central Okanagan (RDCO) recycling brochure can be viewed here.