LAB PLASTICS RECYCLING PROGRAM
The Sustainability Office, Risk Management Services, Payment and Procurement Services, and Facilities Management are working together to eliminate recyclable plastics from the campus waste stream. As a key action toward the achievement of this goal, a Lab Plastics Recycling Program was developed in 2010 to capture and recycle all plastic packaging and non-hazardous plastic lab products supplied to our campus laboratories.
How does the program work?
Lab Plastics Recycling Program recycling bins have been provided to participating labs in various academic buildings across campus. These white recycling bins are used by lab faculty, staff and students to collect and measure all plastic recycled material processed by the labs. Once measured and recorded, the white recycling bins are simply emptied into the larger blue campus recycling bins for recycling processing through Facilities Management. Measured volumes are reported to the Sustainability Office through an on-line tracking tool found here.
What can be recycled?
Packaging Recycling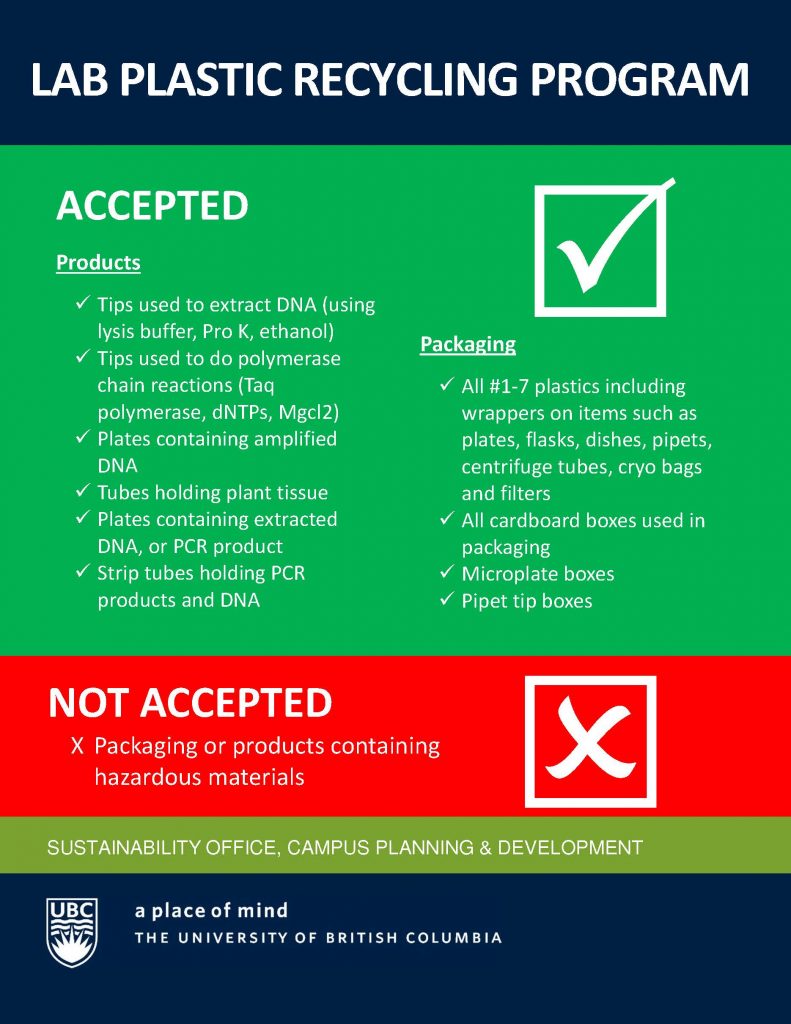 All number 1- 7 plastics are acceptable. This includes the wrappers on items like plates, flasks, dishes, pipettes, centrifuge tubes, cryo bags and filters.
All cardboard boxes used in packaging
Microplate boxes
Pipette tip boxes
Product Recycling
Waste Containing Risk Group 1 Agents: Risk Group 1 Agents are considered by Health Canada to be of low individual and community risk. This includes:
Tips used to extract DNA (using lysis buffer, Pro K, ethanol).
Tips used to do polymerase chain reactions( Taq polymerase, dNTPs, Mgcl2)
Plates containing amplified DNA
Tubes holding plant tissues
Plates containing extracted DNA, or PCR product
Strip tubes holding PCR products and DNA
What is not accepted?
Packaging or products containing hazardous materials
How can I participate?
Register for Lab Plastics Recycling Program, contact the Sustainability Office

Once registered your lab will have a short meeting with the Advisor, Sustainability to review the program and to receive the recycling bin.
It is advised that one or two individuals are identified as contact person(s) and are leads for this program to ensure that the bin is emptied and reported when required.

Laboratory purchases lab products from UBC preferred suppliers

List of UBC Preferred Supplier can be found on Payment and Procurement Services UBCBuySmart website.

Laboratory receives purchases

Packaging materials are deposited into white recycling bin – refer to Packaging Recycling for list of accepted materials

Laboratory uses supplies

Used plastic lab products are deposited into white recycling bin when no longer required – refer to Product Recycling for list of accepted materials

Lab staff empties filled white recycling bin into blue UBC commingled recycling bin found in the hallways outside the laboratory doors.
Lab staff returns emptied white recycling bin to lab and steps 2-6 are repeated.
Recycled Plastics Life Cycle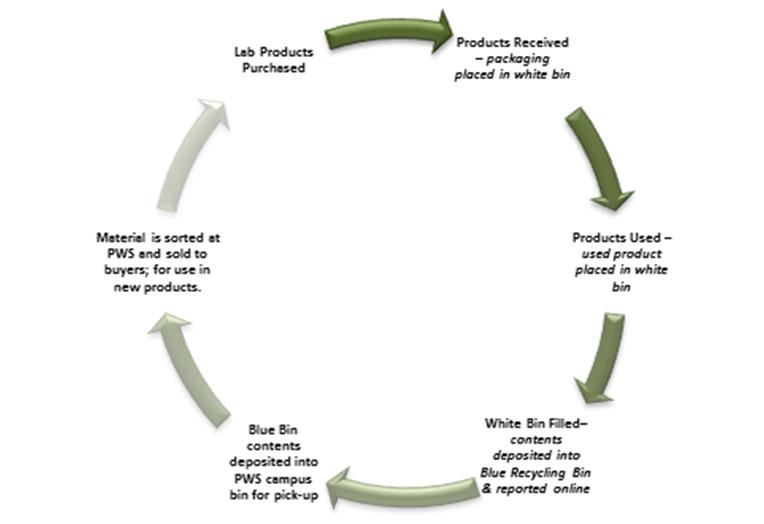 Program Contact
For more information and to register for this program, contact the Sustainability Office, CP+D at 250.807.9232 or by email.