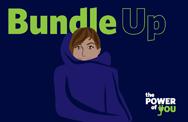 Over 120 faculty, staff and students attended the Power of You Bundle Up event to learn energy efficiency tips for staying warm while keeping energy consumption to a minimum during the winter months.  A total of 150 FortisBC lap blankets, 90 CFL lights bults and 50 insulated lunch bags were distributed to attendees.  An additional 20 lap blankets were requested and distributed to staff following the event. FortisBC ambassadors discussed energy conservation with attendees and provided additional energy saving giveaways including window caulking, weather stripping, cold water laundry soap and shower timers.
Tips for winter energy efficiency shared with participants include:
dressing appropriately for the season
using a sweater and/or lap blanket
closing doors and windows to retain heat to personal space
closing office window blinds at night or on cold days to retain heat
Space heating and cooling has a significant impact on campus energy consumption and in particular, on greenhouse gas emissions.  Wearing sweaters and using blankets is one way you can make a difference.  For areas where supplemental heat may be required, an energy efficient radiant heater (170 watt rating) may be recommended.  Please visit the Facilities Management website for information on the Heater Swap-Out Program.