UGLY SWEATER DAY ON CAMPUS!
According to the World Wildlife Fund, if all Canadians lowered their thermostats by just two degrees Celsius, it would reduce greenhouse gas emissions by about four megatons — the same as shutting down one 600 megawatt coal-fired power station!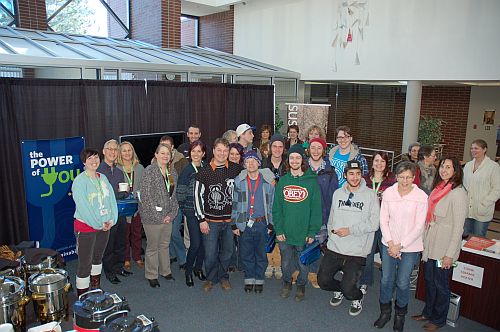 In support of National Sweater Day's theme of "turn down your heat and put on a sweater", UBC Okanagan campus held its first Ugly Sweater Day. Over 70 people attended the lunch hour event to show off their favourite "ugly" or "comfy cozy" sweater while learning energy efficiency tips for staying warm.
Congratulations to Craig Eden, Senior Network Analyst, IT, Media and Classroom Services, winner of the Ugly Sweater Day/Energy Trivia Quiz draw for an Olympic sweater and mitts.