CAP 2030 will position UBC as a model of how universities can mobilize to address the climate emergency and targets in the Paris Agreement through bold, impactful actions to accelerate and deepen reductions across operations, and expanded action on reducing indirect emissions.
The specific objectives of CAP 2030 for UBCO include:
Establish greenhouse gas (GHG) emission reduction targets for 2030
Accelerate the decarbonization of campus operational GHG emissions toward the campus Whole Systems Infrastructure Plan goal to achieve a "net-positive performance in operational energy and carbon" by 2050
Widen the scope of GHG reduction activity to extend UBC's influence to address emission reductions in areas such as commuting, air travel and food
To learn more about Complimentary Climate Action Areas, click here.
UBC Okanagan's Greenhouse Gas Emissions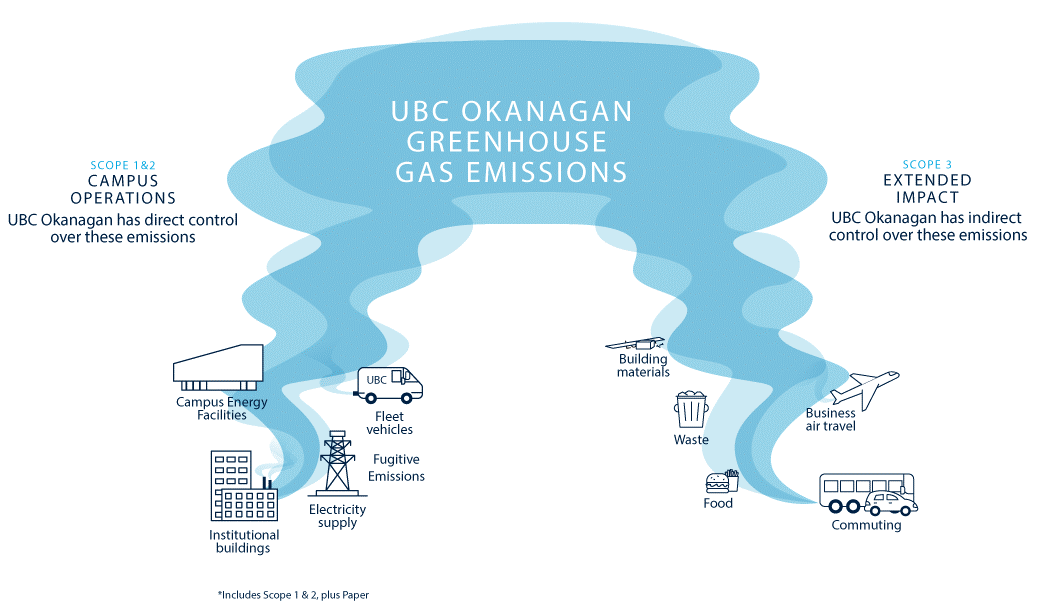 UBCO's sources of greenhouse gas (GHG) emissions are divided into two types:
Campus Operations: These are greenhouse emissions generated mainly from the operations of buildings and the supply of energy (often referred to as Scope 1 and 2 emissions). UBCO is directly responsible for these emissions and must pay BC carbon tax and offsets for them. Campus Operations emissions account for 14% of all campus emissions that are tracked in UBC Okanagan's inventory. Heating and operating building emissions account for 92% of the total campus operations emissions.
Extended Impacts: These are emissions generated from daily activities of students, faculty and staff, including commuting to and from campus, business air travel, food, waste, as well as building materials (often referred to as Scope 3 emissions). UBCO does not have direct control over these emissions sources, and does not pay carbon tax or offsets on them. UBCO has indirect influence over these emissions through behavioral change programs, sustainable supply chain procurement guidelines and others. These emissions account for 86% of the total UBCO GHG emissions.
UBC Okanagan Campus Operations Emissions and Extended Impacts Emissions (2019)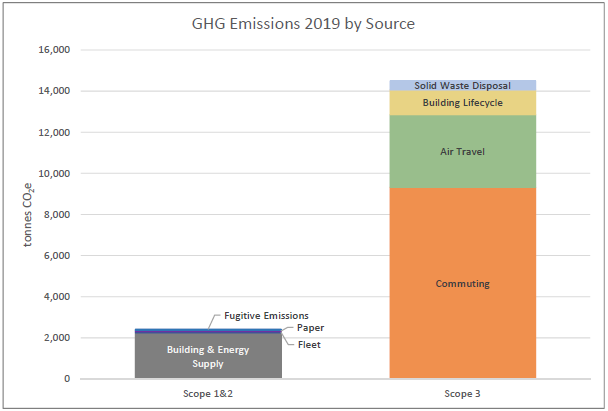 *Operations Emissions (Scope 1 & 2) based on Annual Carbon Neutral Government Program Reporting and Offset Requirement. Extended Impact Emissions (Scope 3) emissions are estimated using consistent methodology between the campuses. Methodologies to calculate Scope 3 emissions are emergent. Assumptions are available in inventory reports.
This chart shows the current distribution and proportion of emissions from Campus Operations and Extended Impact emissions from 2019. Extended Impact emissions represent more than six times the emissions of Campus Operations. CAP 2030 is the first time UBC Okanagan is developing a Climate Action Plan, and the first time UBC has made an explicit mandate to reduce "Extended Impact" emissions. This offers new opportunities to significantly reduce UBC's climate impacts through strategic actions identified in the Emerging Directions section.
Planning and Policy Context
UBC Okanagan has undertaken early projects to support climate action including:
These early advancements laid the foundation for the development for broader policy in the 2016 UBC Okanagan's Whole Systems Infrastructure Plan (WSIP), which set the campus' first climate action goal to achieve a "net-positive performance in operational energy and carbon" by 2050.
The WSIP's implementation represents a significant effort across many operational and administrative units, and has created a strong foundation of operational leadership, heading into the CAP 2030 process. Given the urgency and need for accelerated climate action, the CAP 2030 process enables UBCO to leverage additional opportunities for the campus community as a whole to advance innovative low carbon solutions.
---
Frequently Asked Questions
For some frequently asked questions about the UBCO CAP 2030, click here. If you have additional questions reach out to Leanne Bilodeau, Associate Director Sustainability Operations at: leanne.bilodeau@ubc.ca