ENERGY SAVINGS TO DATE
The Sustainability Office focuses on the achievement of campus sustainability performance, resiliency and positive impacts to the bottom line.
The Sustainability Office works with high impact operational units on campus to embed sustainability actions at the unit level through engagement and planning, setting annual unit level carbon neutral commitments and developing utility partnerships and associated funding opportunities – actions that are demonstrating measurable results.
Year in Review
Highlights
2020
UBC Okanagan achieved an absolute reduction in carbon emissions in 2020, reducing the campus' emissions by 11 per cent, or 271 tonnes of carbon dioxide equivalent (tCO2e), over the previous reporting year. Contributing factors to the reduction include:
Remote working and learning by the campus community; and,
Continued implementation of projects to optimize building and energy supply systems.
 Climate Leadership Planning & Energy Management
The campus continued to undertake a number of actions in response to UBC's Climate Emergency Declaration. The development of its first Climate Action Plan 2030 (CAP2030), which will identify where the campus needs to focus its efforts and resources to enable the campus community, infrastructure, and buildings to address and respond to climate change. The breadth and scope of the plan will focus on reducing direct operational emissions, as well as indirect extended impact areas such as transportation, food and air travel.A number of key initiatives were advanced in the last year that inform the CAP2030's energy and carbon reduction strategies and proposed targets, including:
Phase 3 of the Low Carbon Energy Strategy, which will guide future low carbon district energy system development and investments. This included the design of high-lift heat pumps and thermal storage adjacent to the geo-exchange building. Pending approved funding, this measure will displace natural gas use and provide servicing to a cluster plant in or near the future Interdisciplinary Collaboration and Innovation (ICI) building, which will serve surrounding buildings.
The new 10-year Strategic Energy Management Plan (SEMP, 2020), that will provide a suite of demand side management projects to reduce energy consumption and associated emissions. It is estimated that implementation of initial projects identified in the SEMP, pursuant to funding, will reduce annual energy consumption by 882,700 kWh and 11,260 GJ, reducing emissions by 564 tCO2e.
Development
UBC Okanagan continued to build new facilities despite the global COVID-19 pandemic during 2020. Projects include:
Completed:

Skeena Residence – A 220-bed residence on track to become the first Passive House certified university dormitory in Canada
Plant growth Facility
Two administration facilities – Office Modular 1 and Facilities Management trailer

Under development: Nechako Residence and Commons Block – Targeting LEED® Gold certification, this mixed-use facility will supply the campus with 220-resident units, 24-hour social amenities, and a 450-seat dining facility
Designing: Interdisciplinary Collaboration and Innovation (ICI) building – Targeting, at minimum, LEED® Gold certification, this academic facility is being designed to foster interdisciplinary knowledge and support collaborative, team-based learning and innovative approaches to teaching, while contributing to the campus' sustainable development
The Power of You
Continued communications-based engagement of the campus community through a range of on-line initiatives to support sustainable modes of transportation;
Completed the inaugural run of Shut the Sash, engaging over 40 undergraduate students and reducing fume hood energy use by 8,401 kWh and 94 GJ and saving 5 tCO2e.
Campus Greenhouse Gas Emissions
In compliance with Provincial legislation the Sustainability Office, Campus Planning has been measuring, reporting and offsetting campus greenhouse gas emissions since 2010. The Office is responsible to prepare and submit our campus' annual corporate emissions and Climate Change Accountability Report (CCAR), documenting actions and future plans to reduce campus GHG emissions. Download the 2020 CCAR.
The table below provides a summary of the campus' absolute greenhouse gas emissions since 2007 against campus growth and increases in student FTE.
Figure 1 Absolute GHG Emissions Relative to Growth: 2007-2020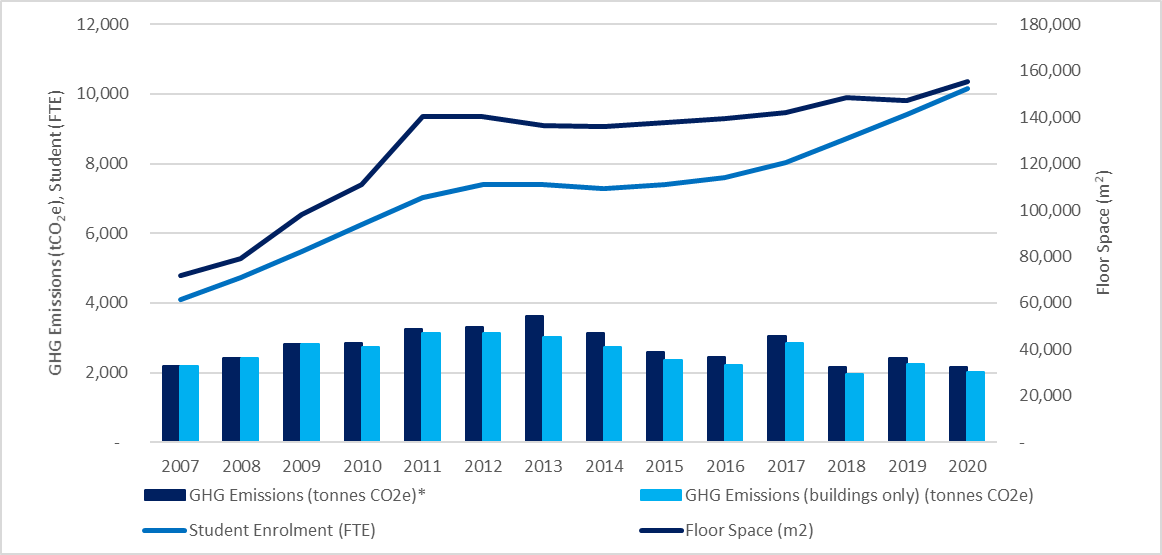 *Total GHG Emissions for 2007-2009 reported buildings only emissions; 2010-2020 includes all in-scope emissions.
Despite the increase of both floor area and student enrollment by over 100 per cent since 2007, absolute GHG emissions have remained fairly stable. Similarly, GHG emissions from buildings alone have dropped by 7 per cent since 2007.
Another way to demonstrate campus GHG emissions performance that accounts for changes in growth, is intensity-based. For example, Figure 2 demonstrates the emissions intensity trend relative to campus growth in floor area from 2007 to 2020. Despite the significant floor area growth, GHG emissions per building gross square meter (m2) dropped from 0.030 in 2007 to 0.014 in 2020, a reduction of 54 per cent.
Figure 2 GHG Emissions Intensity Relative to Building GSM: 2007-2020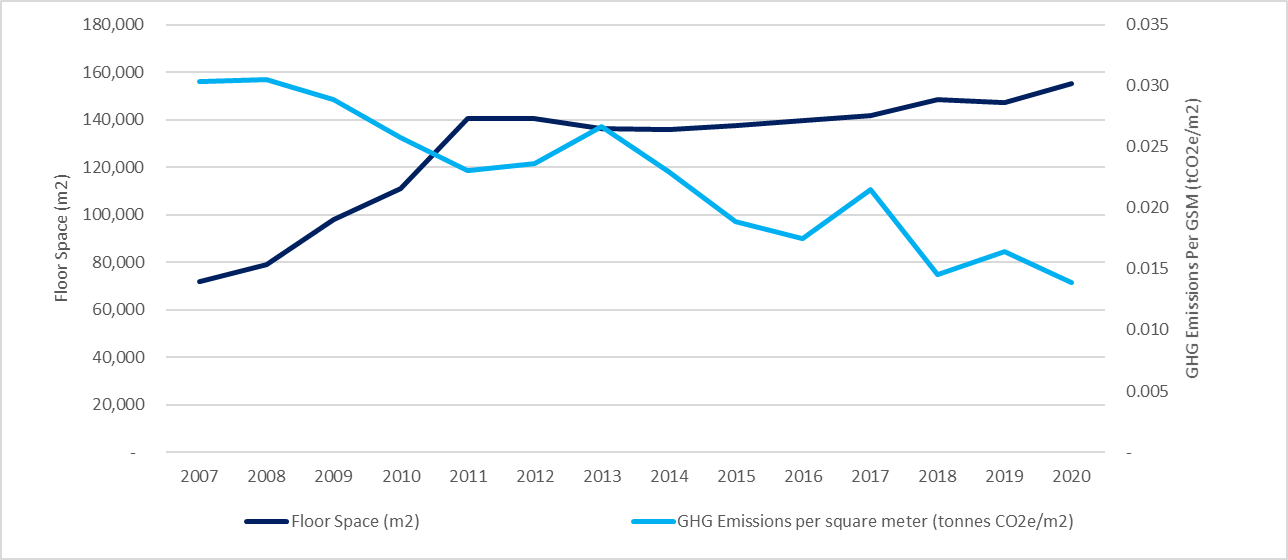 Going Forward
Environmental stewardship and cost reduction can be achieved by reducing campus energy, water demand, and the production of carbon emissions and waste. These will become more important areas of focus with anticipated regional impacts of climate change; uncertain commodity pricing; and carbon offset liability costs associated with compliance with BC Provincial greenhouse gas emission reporting and offsetting legislation.
In the coming year, the campus will continue existing activities to reduce energy and carbon emissions, and will complete its new campus plan – the Climate Action Plan 2030 (CAP2030) – to define a path to reduce carbon emissions, with targets and actions to achieve them. Critical to the CAP2030, implementation of an updated 10-Year Strategic Energy Management Plan and a new Low Carbon Energy Strategy will address energy demand and supply side decarbonization. It is anticipated that alignment and implementation of this work over the long-term will enable the campus to grow sustainably toward the achievement of its goal of net-positive performance in operational energy and carbon by 2050.
Learn more about the developing UBC Okanagan Climate Action Plan 2030 and the UBC Okanagan Whole Systems Infrastructure Plan.