ENERGY SAVINGS TO DATE
The Sustainability Office focuses on the achievement of campus sustainability performance, resiliency and positive impacts to the bottom line.
The Sustainability Office works with high impact operational units on campus to embed sustainability actions at the unit level through engagement and planning, setting annual unit level carbon neutral commitments and developing utility partnerships and associated funding opportunities – actions that are demonstrating measurable results.
Year in Review
Highlights
2018
UBC Okanagan achieved an absolute reduction in carbon emissions in 2018, reducing the campus' emissions by 29 per cent, or 899 tonnes of carbon dioxide equivalent (tCO2e), over the previous reporting year. Contributing factors to the reduction include:

A significant district energy optimization project was completed in multiple buildings resulting in greater compatibility between systems; and,
Building controls recommissioning project completed for a more efficient cold weather operational response.
 Whole Systems Infrastructure Plan (WSIP)
Completed the expansion of the district energy system to the new Commons library expansion, which has been designed to rely solely on the campus' low carbon district energy system for heating; and,
Completed the update to UBCO's Design Guidelines, which integrates sustainability and high performance standards into the design process for all new capital projects.
Strategic Energy Management Plan (SEMP)
Implementation of the Strategic Energy Management Plan (SEMP), which provides a suite of energy conservation measures targeted to reduce energy consumption and GHG emissions, continued. Measures implemented in 2018 reduced emissions by approximately 511 tCO2.
The SEMP was developed from key recommendations of the UBC Okanagan Whole Systems Infrastructure Plan (WSIP, 2016). The establishment of a dedicated Energy Team and the SEMP implementation ensures that ongoing building optimization will continue at UBC Okanagan.
The Power of You
Continued communications-based engagement of the campus community through a range of energy reduction campaigns promoting a variety of initiatives and energy awareness, such as Labs: Power Down & Sort It Out and the inaugural run of the Seasonal Shutdown.
Commenced with planning to participate in the 2019 BC Cool Campus Challenge. Developed in partnership with FortisBC in response to the 2018 pipeline explosion, the Challenge will be undertaken by six BC post-secondary campus' with a focus on reducing energy consumption and emissions during the winter season.
Campus Greenhouse Gas Emissions
In compliance with Provincial legislation the Sustainability Office, Campus Planning & Development has been measuring, reporting and offsetting campus greenhouse gas emissions since 2010. The Office is responsible to prepare and submit our campus' annual corporate emissions and Carbon Neutral Action Report (CNAR), documenting actions and future plans to reduce campus GHG emissions. Download the 2019 CNAR.
The table below provides a summary of the campus' absolute greenhouse gas emissions since 2007 against campus growth and increases in student FTE.
Figure 1 Absolute GHG Emissions Relative to Growth: 2007-2018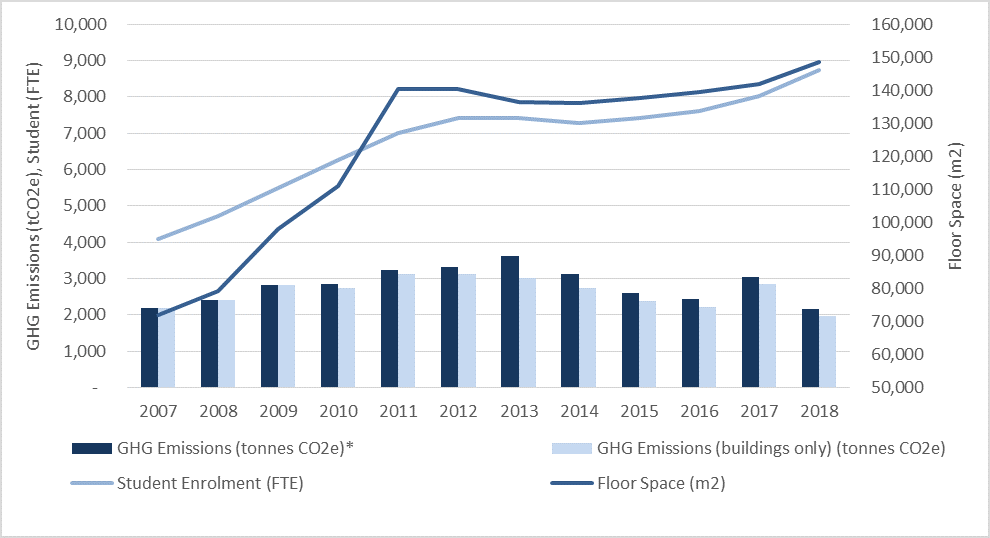 *Total GHG Emissions for 2007-2009 reported buildings only emissions; 2010-2018 includes all in-scope emissions.
Despite the increase of both floor area and student enrollment by over 100 per cent since 2007, absolute GHG emissions have remained fairly stable. Similarly, GHG emissions from buildings alone have dropped by 10 per cent since 2007.
Another way to demonstrate campus GHG emissions performance that accounts for changes in growth, is intensity-based. For example, Figure 2 demonstrates the emissions intensity trend relative to campus growth in floor area from 2007 to 2018. Despite the significant floor area growth, GHG emissions per building gross square meter (m2) dropped from 0.030 in 2007 to 0.015 in 2018, a reduction of 52 per cent.
Figure 2 GHG Emissions Intensity Relative to Building GSM: 2007-2018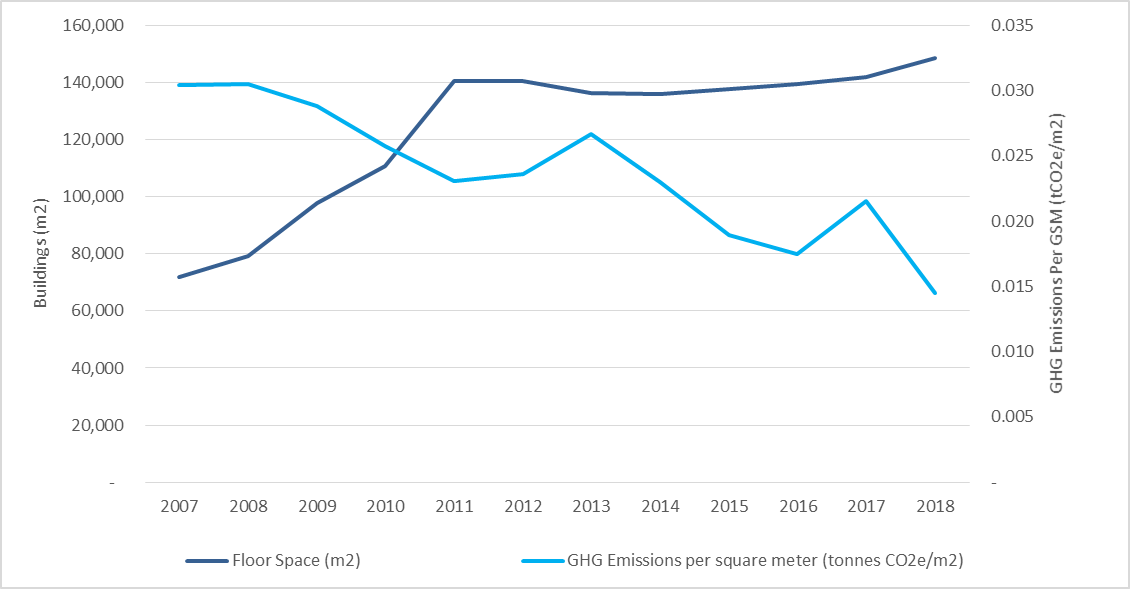 Going Forward
Environmental stewardship and cost reduction can be achieved by reducing campus energy, water demand, and the production of carbon emissions and waste. These will become more important areas of focus with anticipated regional impacts of climate change; uncertain commodity pricing; and carbon offset liability costs associated with compliance with BC Provincial greenhouse gas emission reporting and offsetting legislation.
In the coming year, the campus will continue to implement the Whole Systems Infrastructure Plan to achieve co-benefits between energy, carbon, water, landscape, ecology, biodiversity and engagement projects. Key climate and energy focused initiatives include the development of a Net Zero Carbon District Energy Strategy to guide future low carbon district energy system development and investments. UBC Okanagan is also taking a climate leadership role by developing a Climate Action Plan (CAP). This plan will focus on key mitigation measures and climate adaptation and resilience opportunities, in recognition that climate change is and will continue to occur. It is anticipated that the alignment and completion of these projects will equip the campus with a forward looking, systematic framework for environmentally responsible growth and advance the campus toward its goal to be "net-positive performance in operational energy and carbon" by 2050.
Click here to learn more about UBC Okanagan's Whole Systems Infrastructure Plan.