SUSTAINABLE & ACTIVE TRANSPORTATION OPTIONS
---
Transit | ProPass | U-Pass | Carpool | EVs | Cycling
---
Kelowna Regional Transit
Transit provides a sustainable alternative to single occupancy vehicles, lowering harmful carbon emissions, and saving expenses associated with owning and operating a vehicle.
Kelowna Regional Transit provides many options for transit to and from UBC's Okanagan campus, including a rapidbus service. UBC also has a new bus exchange making it a more enjoyable experience for users arriving to campus or waiting for their bus.
For options please see:
---
ProPass Program for UBCO Staff and Faculty

As a UBCO employee, you are eligible to enroll in the ProPASS Program to receive a reduced cost on adult monthly bus passes. Enroll online or through Parking Services for a minimum of one four-month Pass Period.
UBCO employees can purchase four months of adult monthly transit passes at a 15% discount for $59.50/month whereas regular cost without ProPASS is $70/month (employees must enroll and pay for an entire four-month Pass Period).
Visit the ProPass website for more information and to register for the program.
---
Student U-Pass Program
All students at UBC's Okanagan campus get unlimited access to Kelowna Regional Transit System through the U-Pass program.
For more information about the U-Pass, please contact the UBC Students' Union Okanagan.
University Centre | Room 133
Phone: 250.807.8842
Email: info@ubcsuo.ca
---
Carpooling

Carpool stalls are located in lots G and H for vehicles parking with 2 or more individuals. Campus Map
In order to avoid a violation notice in a carpool stall, two or more individuals must be observed exiting the vehicle at the time of parking.
For additional information on carpool parking, please visit Campus Parking Information.
---
Electric Vehicle Charging Stations
UBC Okanagan has fourteen J1772 electric vehicle charging stations on campus. Six are located in Parking Lot E within the Transit Exchange, six are located in Parking Lot G near the west campus access off John Hindle Drive and two are located in Parking Lot F to the right of the lot entrance.
Please contact Parking Services for additional information and to obtain a long-term parking permit.
---
Cycling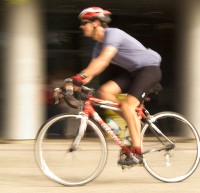 UBC's Okanagan campus has approximately 8-10 kms of road and trail routes throughout the campus lands. The campus supports cycling commuters through the provision of bicycle storage and end of trip facilities.
A map of cycling routes is available from the City of Kelowna.
Bike Safety & End of Trip Facilities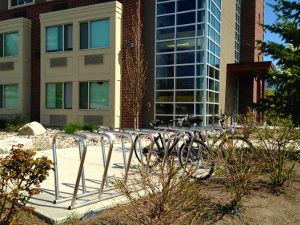 Bicycle racks are located outside most campus academic buildings and residences. Covered bike storage, outdoor lockers, indoor bike storage and showers are also available throughout campus.
Indoor bike storage and lockers are available through the UBCycles Program. Don't have a bike, this primarily student-led program offers a bike loan program to those who require the use of a bike on campus.
To rent a bike locker, please contact Parking Services.
End of Trip facilities that provide change rooms and shower facilities are available to campus commuters and can be found in various buildings across campus.
For a comprehensive list of bike parking locations and end of trip facilities, visit transportation.ok.ubc.ca.
---
Get Involved
Join a team for the Spring 2022 GoByBike Week – May 30 – June 5: Register Here then search for a UBC Okanagan team
Learn about the Campus Commuter Challenge: 2019 Event
Attend a Virtual Cycling Workshop: 2022 May : 24th Basic Bike Maintenance & 26th Intro to City Cycling