WHOLE SYSTEMS GOALS
Goals
2050 Whole Systems Goals
 for UBC Okanagan campus were established through the development of the 
Okanagan Campus Plan
 (2015). The goals are intended to guide the next phase of the campus' physical planning and design in a sustainable manner, supported by the implementation of the 
Whole Systems Infrastructure Plan
 (2016).
Campus growth should be managed through a whole systems and regenerative design lens that incorporates environmental, economic and social sustainability outcomes,to achieve a net-positive impact on the well-being of the campus community and ecology. The UBC Okanagan: Whole Systems Approach to Campus Infrastructure is informed by the following six long-term goals:
2050 Whole Systems Goals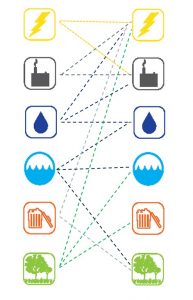 1. Maximize building energy efficiency and achieve a net positive performance in operational energy and carbon
2. Implement a framework that supports low embodied carbon in future development
3. Optimize water quality, supply and security
4. 100% diversion of stormwater from municipal systems
5. Strive towards full waste recovery/reuse
6. Enhance and/or restore the site's ecology
Download a copy of the UBC Okanagan's Whole Systems Pathway to Performance here.