CAMPUS SUSTAINABILITY TOURS
Take a guided or self-led campus sustainability walking tour using the Sustainability Tour brochure and visit a series of sustainable stations around campus.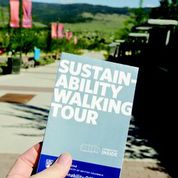 Guided tours feature subject matter experts who discuss the projects and initiatives that make our campus sustainable. Highlights include green buildings, district energy system, composting program, Hunter Wireless irrigation system and natural retention pond.
Tours may also be customized and tailored to participants' interests. Tour topics include:
Sustainability Walking Tour
Geo-exchange District Energy System Tour
Green Buildings Tour
Please contact us to request a tour.