UBC Okanagan requires that all major projects earn LEED Gold certification for new construction.
In 2022, UBC completed the UBC LEED v4.1 Implementation Guide, noting that LEED v4.1 has been launched by the USGBC as a beta version, to allow the market to work with the draft rating system and provide feedback based on real-world application.
The LEED v4.1 Guide is intended to provide project teams with the UBC-specific guidance required to optimize LEED for the Vancouver and Okanagan campuses, identifying credits that are mandatory and/or expected because they align with UBC policies and those which have been identified as less beneficial to the campus because they do not directly align with policy. However, the UBC LEED Implementation Guide for LEED v4 will continue to guide projects registered under applicable rating systems until LEED v4 projects are complete and certified. Projects may elect to apply v4.1 credit compliance paths as applicable, and in accordance with USGBC guidance.
The UBC LEED v4.1 Implementation Guide is a companion document to the Campus Plans, Design Guidelines, the Green Building Action Plan, and the UBC Technical Guidelines. Project teams should reference all relevant UBC policy and guidance documents along with this Guide.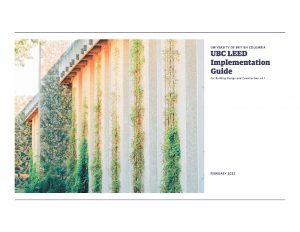 Download a .pdf copy of the:
Credit Guidance Sections:
Previous Guide
UBC LEED Implementation Guide for Building Design and Construction v4.0 (2016, appendix 2021) – Download a .pdf copy of the guide here.