---
Upcoming Events!
---
Upcoming:

(BE) LONGING: Tiny Stories for Radical Futures
Join UBCO students, staff, faculty and extended community to celebrate the launch of "(BE)LONGING: Tiny Stories for Radical Futures," edited by Chantal Bilodeau and written by the CRWR 473 students: Makena Bennett, Marcey Costello, Miriam Cummings, Ricarro Duhaney, Annie Furman, Hope Kircher, Rhea Kjargaard and Calise Stankoven. There will be readings and a conversation on how we can creatively engage with the climate crisis.
Chapbook & snacks available for purchase.
The Third Space Cafe venue is fully accessible.
When:
Wed. Dec. 7 @ 7:00 pm
Where:
Third Space Cafe
103-1708 Dolphin Avenue, Kelowna
Cost:
Free admission
---
Past Events:
UBC Reads Sustainability with Geoff Dembicki
Featuring The Petroleum Papers: Inside the Far-Right Conspiracy to Cover Up Climate Change
Join climate investigative journalist and award-winning author Geoff Dembicki live from Brooklyn for a conversation on his latest work, which draws from confidential oil industry documents to uncover how companies like Exxon, Koch Industries, and Shell built a global right-wing echo chamber to protect oil sands profits.
When:
Thu. Nov. 10
12:00 pm – 1:30 pm
Where:
Free Webinar
COP27 LIVE!
Join UBC students, staff, and faculty on-the-ground at COP27 in conversation with CBC News climate journalist Lisa Johnson for an inside view of the negotiations, discussions, and emotions of the conference.
With Gideon Berry, Rudri Bhatt, Simon Donner, Abul Bashar Rahman, Veronica Relano, Pasang Yangjee Sherpa, and Rynn Zhang.
When:
Tue. Nov. 15
12:00 pm – 1:30 pm
Where:
Free Webinar
SORT IT OUT: Choose to Reuse Event
Use a reusable mug and you'll reduce waste
At UBC's Okanagan campus, single-use coffee cups account for the second highest amount of accepted recyclable material found in the waste and recycling streams*.
Learn about what goes where and why with your colleagues and classmates at this fun, educational Sort It Out event where you will actively participate in advancing the Okanagan campus' Climate Action Plan 2030 commitments by:
Learning about UBC Okanagan's waste diversion programs
Testing your recycling knowledge
Don't forget your travel mug for coffee or cocoa!
When:
Tue. Oct 25
11:00 am – 1:30 pm
Where:
Central Courtyard
Visit www.sustain.ok.ubc.ca/waste for more information on how to Sort It Out at UBCO.
Download event poster.
*The 2022 Waste Audit, commissioned by UBC Okanagan's Facilities Management department, reported that of the 88% of the divertible material found in the waste stream, 19% was made up of disposable cups. Similar statistics appeared within the recycling audit, which reported that paper coffee cups were listed as the top material recycled at 20%. Improvements to these audit figures can be easily achieved through proper sorting measures applied at the recycling stations found around campus.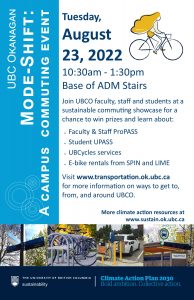 Mode-Shift: A Campus Commuting Event
Promoting sustainable, active transportation
Join UBCO faculty, staff and students at a sustainable commuting showcase for a chance to win prizes and learn about:
Faculty & Staff ProPASS
Student UPASS
UBCycles services
E-bike rentals from SPIN and LIME
Visit www.transportation.ok.ubc.ca for more information on ways to get to, from, and around UBCO.
Download poster HERE.
When:
Tue. Aug 23
10:30 am – 1:30 pm
Where:
Arrival Plaza – bottom ADM Stairs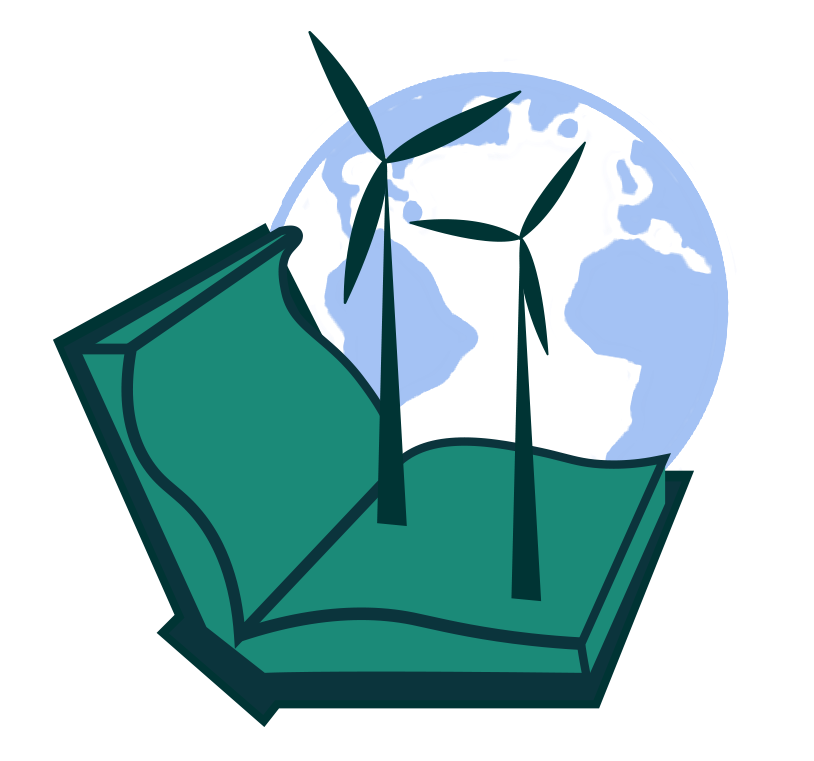 UBC Okanagan Teach-In on Climate/Justice
Join fellow campus community members at the first UBC Okanagan Teach-In on Climate/Justice. Panel discussions will be presented by UBCO faculty and staff and moderated by student hosts.
Opening
Session 1: Faculty panels and discussion groups
Session 2: Intro to the UBCO Climate Action Plan 2030
Closing
More information can be found HERE.
When:
March 29, 2022
6:00-8:00 pm
Where:
Virtual Event