---
Upcoming Events!
---
Upcoming: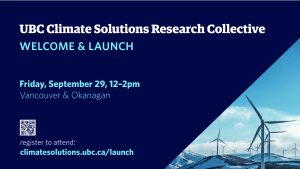 UBC CLIMATE SOLUTIONS RESEARCH COLLECTIVE:
Welcome & Launch
Join us for a welcome and launch event to learn about the new Climate Solutions Research Collective, engage with fellow UBC researchers developing and examining solutions to the climate crisis, and contribute your ideas for the collective's themes, projects and workshops.
Agenda
12-1 p.m: Introductions, Q&A and roundtable discussions
1-2 p.m: Informal mixer
Date:  Fri. September 29
Time:  12:00 pm – 2:00 pm
Location:
Okanagan campus: EME 4116  (map)
Vancouver campus: Asian Centre Auditorium (map)

More Information and to register visit: https://climatesolutions.ubc.ca/launch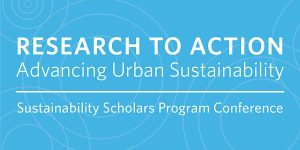 REASEARCH TO ACTION:
Advancing Urban Sustainability 2023
What happens when you give bright and engaged graduate students real-world sustainability problems to solve?
UBC Sustainability Scholars are helping to generate real change in the world. Learn about what our local governments, organizations, and institutions are doing to future-proof our people, our cities, and our urban spaces.
Enjoy an afternoon of engaged discussion on a diverse range of applied sustainability research projects produced by UBC graduate students in collaboration with partner organizations including the City of Vancouver, Metro Vancouver, BC Hydro, TransLink, local health authorities, many local governments, and various NGOs. Scholars will present their projects in concurrent themed panel sessions throughout the afternoon. Panels will be moderated by experts from UBC and Sustainability Scholars Program partners.
Date:  Mon. September 25
Time:  1:00 pm – 5:00 pm
Location: Online (Free)

Conference Website:
https://sustain.ubc.ca/events/research-action-advancing-urban-sustainability-2023
Register here:
https://www.eventbrite.ca/e/research-to-action-advancing-urban-sustainability-2023-tickets-668932062807?aff=oddtdtcreator
About the Sustainability Scholars Program:
https://sustain.ubc.ca/teaching-applied-learning/ubc-sustainability-scholars-program
Past Events: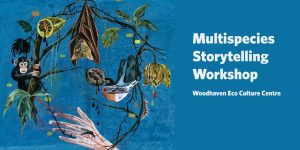 Multispecies Storytelling Workshop
This workshop, in following our earlier symposium, "Telling Stories: The Humanities in an Age of Planetary Agenda-Setting"– will explore the significance of storytelling (in all its human and more-than-human modalities) to agenda-setting, both because stories serve to naturalize certain ways of thinking about and acting in the world, and because in a multispecies world they can invite and inspire meaningful social and cultural engagement and action.
Date:  Fri. July 21
Time:  10:00 am – 5:00 pm
Location: Woodhaven Eco Culture Centre @ 969 Raymer Road, Kelowna
For more information and to register: Multispecies Storytelling Workshop
Telling Stories: The Humanities in an Age of Planetary Agenda-Setting
Telling Stories: The Humanities in an Age of Planetary Agenda-Setting, is a symposium, which takes place on the Unceded Territory of the Syilx People of the Okanagan Nation, considers what Timothy Morton has called "the net effect": mass extinction and planetary injustice—exploring the Arts/Humanities as method in navigating, educating about, and ultimately creating awareness of what it means to live sustainably in an age of mass extinction. As such, our symposium is situated at the interstices of sustainability and multispecies storytelling no longer limited by anthropocentrism.
Date:  Wed. July 19
Time:  9:45 am – 6:00 pm
Location: UBCO Arts and Sciences Centre – Graduate Student Collegium @ 3187 University Way, Kelowna
For more information and to register: Telling Stories: The Humanities in an Age of Planetary Agenda-Setting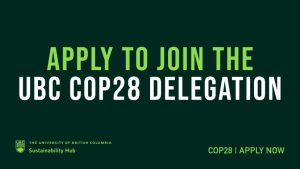 UBC at COP28
Applications for UBC's delegation at COP28 will open on June 1 and close on July 14.
The 28th United Nations Climate Change Conference of the Parties (COP28) summit is taking place Dubai, United Arab Emirates (UAE) from November 30 to December 12, 2023.
The annual UN Climate Change Conference of the Parties (COP) brings together countries, civil society, companies and people on the frontline of climate change to accelerate action on the UN Framework Convention on Climate Change.
For more information and to apply visit: UBC at COP28
Land & Food Systems Scholar Series: Agriculture's Transition to Net Zero Emissions – What is Livestock's Role?
Join Dr. Ermias Kebreab, Associate Dean and Professor of Animal Science in the College of Agriculture and Environmental Sciences and the Director of the World Food Centre at the University of California-Davis, as he presents on livestock's role in how agriculture is transitioning to net zero emissions.
When: Mon. May 15, 2023 @ 10-11:30 am PDT
             Meet and greet after the presentation: 11:30 – 12:30 PM
Where: In-person at MCML Rm. 160 UBC Vancouver campus, or via Zoom
Register: Register here by May 11
Celebrate Earth Day with some climate-aware food choices!
Try a plant-forward dish! UBCO Food Services is offering a $1 off of the following delicious plant-forward meals:
Tofu Banh Mi (at Sunshine)
The Sunshine Bowl (at Sunshine)
Avocado Toast (at Comma)
Vegetarian Chilli (at Rocket on Friday)
Bring your travel mug to get $1 off any beverage at UBCO Food Service locations from Thursday to Saturday!
When: Thu-Sat. April 20-22, 2023
Local Food Values Dialogue Series
The UBCO Local Food Values Dialogues are a way for the UBC Okanagan Community to more clearly identify and define the environmental and social values our university uses when purchasing local food from Okanagan food producers. Through these three dialogues, participants will think through what these values are, and how they could be identified on farms in the Okanagan bioregion, that grow some of the food that is eaten on campus.
Dialogue 1: Sustainability of organic/regenerative agriculture, biodiversity conservation, and salmon habitats
Thur. March 9 @ 2:00 pm – 3:15 pm, virtual and in person – ART 368
Guest speakers: Eva-Lena Lang, Organic BC, Lia McKinnon, Okanagan Similkameen Stewardship (OSS), Andrea McDonald, Salmon-Safe BC
Dialogue 2: Justice for farm workers, farmers and other food producers, particularly those representing Indigenous and other diverse groups
Thur. March 16 @ 2:00 pm – 3:15 pm, virtual and in person – ART 368
Guest speakers: Robyn Bunn, Radical Action with Migrants in Agriculture (RAMA), Anna Westhover, National Farmers Union (NFU), other to be announced.
Dialogue 3: How can we at UBCO begin to confirm these values in our ongoing food value chain relationships? 
Thur. March 23 @ 2:00 pm – 3:15 pm, virtual and in person – ART 368
Guest speakers: UBCO Food Services, LFP pilot project farmers, others to be announced.
Register for our Local Food Values Dialogue Series by clicking here.

UBCO's 2nd Teach-In on Climate and Justice
Join fellow campus community members at the second UBC Okanagan Teach-In for a dialogue on climate and justice research and an open space on climate action in the UBCO community! Panel discussions will be presented by UBCO faculty and staff and moderated by student hosts.
Opening: Territorial acknowledgement and welcome
Session 1: Concurrent panels on climate and justice research
Break: Enjoy climate-friendly food and a performance by MFA students
Session 2: Open space on climate action in the UBCO community
Closing: Wrap up and next steps
For more information and to register, visit HERE.
When: Mon. March 13, 2023 @ 6:00-8:30 pm
Where: ADM 121, Sunroom (through Sunshine Cafe)

Do you have a creative idea to make your lab or research activity more sustainable?
The Green Labs Fund, offered annually by the Green Labs Program, promotes and supports sustainability in labs across our campuses. Faculty, staff and students from UBC Vancouver and UBC Okanagan are invited to apply to receive up to $4,000 to implement an innovative project.
Proposals should:
Strengthen sustainability at UBC through reduction of environmental impacts of research activities
Benefit the UBC scientific community
Be within the range of $250 to $4,000
Have an immediate or short-term benefit and practical applicability
Funding applications that meet the following additional criteria may be considered more favorably:
Projects with measurable outcomes
Projects that are creative and innovative
Project that are scalable and could be implemented by other researchers/departments at UBC Okanagan and/or Vancouver
LEARN MORE AND APPLY by March 19, 2023 at 11:59pm.

UBC Sustainability Scholars – Call for Applications
Paid Summer Internships
The UBC Sustainability Hub is pleased to offer UBC graduate students the opportunity to work on funded sustainability internship projects.
Applications are currently being accepted for over 64 internships that will commence May 1, 2023. Current UBC graduate students from all academic disciplines are encouraged to confirm the eligibility requirements and apply.
Successful candidates work under the guidance of a mentor at one of our partner organizations and are immersed in real world learning where they can apply their research skills and contribute to advancing sustainability and climate action across the region. Each Scholar receives $25 per hour to complete 250 hours of work.
For more information on the available projects and to apply, visit the Sustainability Scholars Program website.
Applications will be accepted until midnight Sunday January 29.
Sustainability on Screen Film Series: Racing Extinction
Join us on January 26th for the screening of Racing Extinction, the first in the Sustainability on Screen film series. Racing Extinction is a 2015 documentary about the ongoing Anthropogenic mass extinction of species and the efforts from scientists, activists and journalists to document it by Oscar-winning director Louie Psihoyos.
This screening is free and open to all and will be held in the theatre at Okanagan College Kelowna Campus.
Sustainability on Screen is a series of documentary-screenings, panel discussions and Q&As that will be hosted at Okanagan College with the intention to engage the public with climate activism. Panels and audience-wide Q&As will investigate the significance of the humanities and story-telling has in combatting the climate crisis and societal agenda-setting. All times and locations are the same and each event will be offering refreshments.
The series is moderated by Dr. Jodey Castricano (UBCO) and Dr. Shona Harrison (UBCO, OC) and is part of a collaborative project between the University of British Columbia, Okanagan and the University of Exeter (UK). Sustainability on Screen is organized by the Post-Anthropocentrism and Critical Animal Studies Research Group [PACAS] and is supported by a UBC Okanagan-Exeter Excellence Catalyst Grant and the Faculty of Critical and Creative Studies.
When: Thu. Jan. 26 @ 6:30 – 9:00 pm
Where: Okanagan College (Kelowna) 1000 KLO Road, Kelowna

(BE) LONGING: Tiny Stories for Radical Futures
Join UBCO students, staff, faculty and extended community to celebrate the launch of "(BE)LONGING: Tiny Stories for Radical Futures," edited by Chantal Bilodeau and written by the CRWR 473 students: Makena Bennett, Marcey Costello, Miriam Cummings, Ricarro Duhaney, Annie Furman, Hope Kircher, Rhea Kjargaard and Calise Stankoven. There will be readings and a conversation on how we can creatively engage with the climate crisis.
When: Wed. Dec. 7 @ 7:00 pm
Where: Third Space Cafe 103-1708 Dolphin Avenue, Kelowna
UBC Reads Sustainability with Geoff Dembicki
Featuring The Petroleum Papers: Inside the Far-Right Conspiracy to Cover Up Climate Change
Join climate investigative journalist and award-winning author Geoff Dembicki live from Brooklyn for a conversation on his latest work, which draws from confidential oil industry documents to uncover how companies like Exxon, Koch Industries, and Shell built a global right-wing echo chamber to protect oil sands profits.
When: Thu. Nov. 10 @ 12:00 pm – 1:30 pm
Where: Free Webinar
COP27 LIVE!
Join UBC students, staff, and faculty on-the-ground at COP27 in conversation with CBC News climate journalist Lisa Johnson for an inside view of the negotiations, discussions, and emotions of the conference.
With Gideon Berry, Rudri Bhatt, Simon Donner, Abul Bashar Rahman, Veronica Relano, Pasang Yangjee Sherpa, and Rynn Zhang.
When: Tue. Nov. 15 @ 12:00 pm – 1:30 pm
Where: Free Webinar
SORT IT OUT: Choose to Reuse Event
Use a reusable mug and you'll reduce waste
At UBC's Okanagan campus, single-use coffee cups account for the second highest amount of accepted recyclable material found in the waste and recycling streams*.
Learn about what goes where and why with your colleagues and classmates at this fun, educational Sort It Out event where you will actively participate in advancing the Okanagan campus' Climate Action Plan 2030 commitments by:
Learning about UBC Okanagan's waste diversion programs
Testing your recycling knowledge
Don't forget your travel mug for coffee or cocoa!
When: Tue. Oct 25 @ 11:00 am – 1:30 pm
Where: Central Courtyard
Visit www.sustain.ok.ubc.ca/waste for more information on how to Sort It Out at UBCO.
Download event poster.
*The 2022 Waste Audit, commissioned by UBC Okanagan's Facilities Management department, reported that of the 88% of the divertible material found in the waste stream, 19% was made up of disposable cups. Similar statistics appeared within the recycling audit, which reported that paper coffee cups were listed as the top material recycled at 20%. Improvements to these audit figures can be easily achieved through proper sorting measures applied at the recycling stations found around campus.
Mode-Shift: A Campus Commuting Event
Promoting sustainable, active transportation
Join UBCO faculty, staff and students at a sustainable commuting showcase for a chance to win prizes and learn about:
Faculty & Staff ProPASS
Student UPASS
UBCycles services
E-bike rentals from SPIN and LIME
Visit www.transportation.ok.ubc.ca for more information on ways to get to, from, and around UBCO.
Download poster HERE.
When: Tue. Aug 23 @ 10:30 am – 1:30 pm
Where: Arrival Plaza – bottom ADM Stairs
UBC Okanagan Teach-In on Climate/Justice
Join fellow campus community members at the first UBC Okanagan Teach-In on Climate/Justice. Panel discussions will be presented by UBCO faculty and staff and moderated by student hosts.
Opening
Session 1: Faculty panels and discussion groups
Session 2: Intro to the UBCO Climate Action Plan 2030
Closing
More information can be found HERE.
When: Mon. March 29, 2022 @ 6:00-8:00 pm
Where: Virtual Event