SORT IT OUT
UBC Okanagan successfully diverted 56% of its waste material from the landfill in 2020.

Diverting Waste from the Landfill
UBC's Okanagan campus is promoting numerous recycling activities to preserve natural resources, save energy and reduce the amount of solid waste generated on campus and sent to the landfill. Facilities Management has implemented a campus-wide recycling program that accepts paper, plastic, refundables, e-waste, glass, metal and wooden pallets. In 2019, Facilities Management expanded the compost program to include all organic and compostable material. The Sustainability Office initiated a lab plastics recycling program, which accepts lab material packaging and non-hazardous lab plastics. Health, Safety and Environment manages hazardous materials including batteries, contaminated and uncontaminated lab glass, chemical, bio hazardous, and radioactive waste, ensuring these materials do not enter the campus' waste stream.
Waste audits are conducted on a bi-annual basis with measures to educate the campus community about the importance of recycling. Click here to view the waste audit reports previously completed.
---
Improving Recycling Compliance
Through a collaboration between the Sustainability Office and Facilities Management, every building foyer and hallway has designated Recycling Stations and signage clearly communicating the campus' recycling program. The aim is to initiate behaviour change and eliminate the contamination of recyclable materials.
The campus' current waste streams include:
Grey Bins – Waste
Blue Bins – Recyclable Items
Green Bins – Refundable Items
Yellow Bins – Organic & Compostable Materials
Pink Tubes – Battery and small e-waste (i.e. cell phones)[1]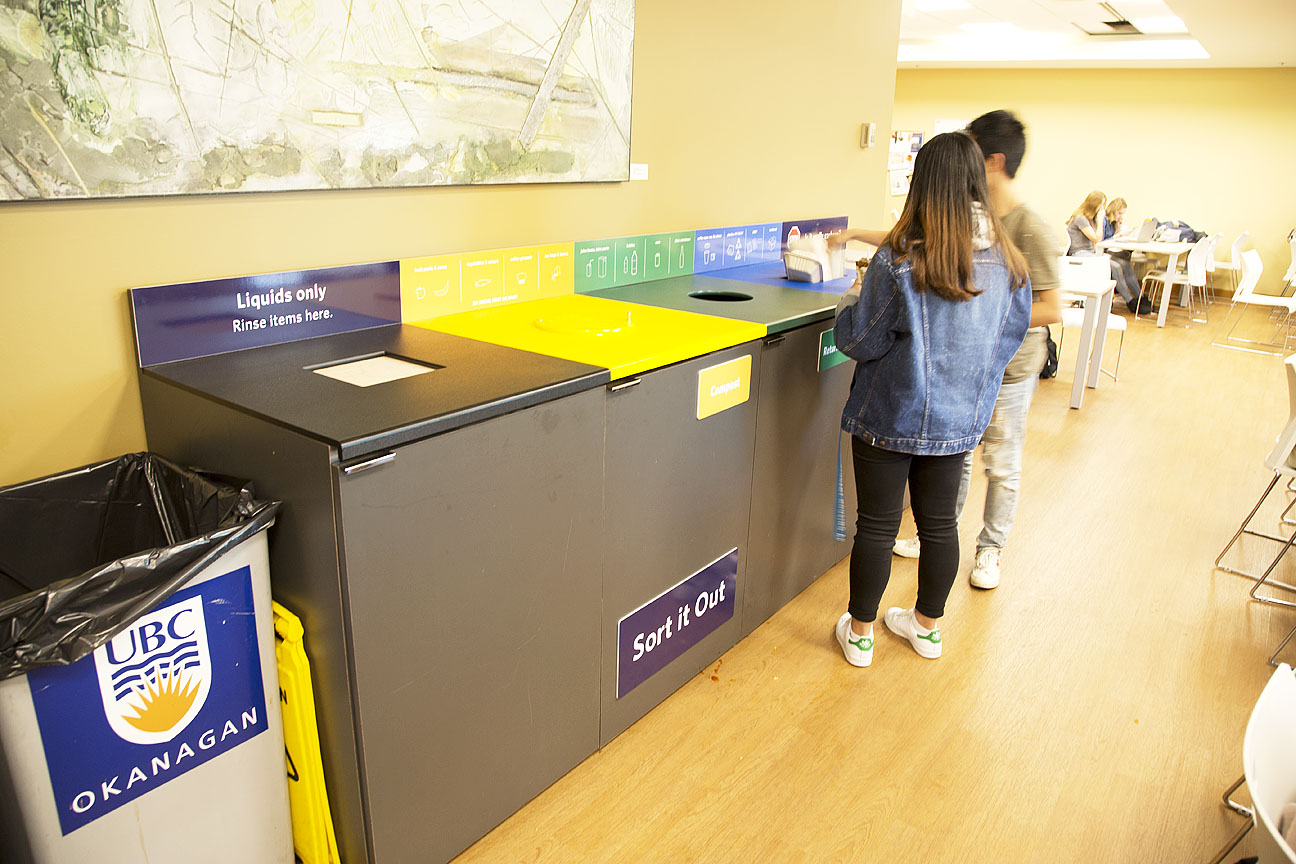 ---
How to Sort It Out at UBC Okanagan
Proper sorting at recycling stations is imperative to ensuring recyclable, returnable and compostable materials remain out of the waste stream. Organic waste that is disposed of through the garbage stream ends up in the landfill where it is left to decompose. A gas mainly comprised of methane (CH4)[2], a greenhouse gas that is 21 times more potent than carbon dioxide (CO2) in terms of its global warming potential (GWP), is produced and released into the atmosphere during the decomposition process. Recyclable material such as plastic bottles can take over 400 years to breakdown when their final residence is in a landfill. You can make a difference and reduce the overall non-waste generated and deposited into the landfill by sorting it before tossing it.
Watch a short video on How to Sort Your Waste at UBC Okanagan. *Developed by 2018/19 GEOG491D students and supported by the Sustainability Office, Facilities Management and Food Services. The project's objective is to create a peer-to-peer educational tool to increase awareness of current waste and recycling issues and improve sorting compliance, that has relevance to the campus community as a whole. The video, along with short social media-ready clips, are key components currently featured on UBCOTV.
---
Keep our composts clean *UPDATED* Fall 2019
UBC Okanagan has contracted Spa Hills Farms to pick-up and process all remaining organic and compostable material deposited into the yellow compost bins found across campus. The expanded list of acceptable material includes all organic food, bread, meat, wooden utensils and chopsticks, wax paper, napkins, coffee filters, tea bags, and containers stamped compostable.
UBC Okanagan still has its separate Earth Tub system in place, which produces 200 pounds of nutrient rich landscaping material daily.
Digging Deeper
[1] Battery collection tubes are found in various academic building foyers, contact RMS for specific locations.
[2] Municipal Solid Waste and Greenhouse Gases. Government of Canada, Environment and Climate Change Canada. July 2014.
---
Recyclepedia
A-Z Recyclepedia

 A list of everything that can be recycled, returned or composted on campus.