UBC OKANAGAN WHOLE SYSTEMS INFRASTRUCTURE PLAN
The UBC Okanagan Whole Systems Infrastructure Plan (WSIP) is an implementation framework of the UBC Okanagan Campus Plan.

The WSIP defines and supports a long-term vision for creating a sustainable campus using a whole systems approach. It incorporates environmental, economic and social sustainability outcomes to achieve a net positive impact on the wellbeing of the campus community and ecology.
The WSIP provides an implementation framework for how this will be achieved, including recommendations for the design guidelines and performance goals that have been used to develop UBCO Design Guidelines – Green Buildings to guide the design of all facilities on campus.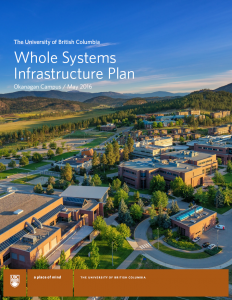 The 
UBC Okanagan Whole Systems Infrastructure Plan
 (WSIP) was endorsed by UBC Okanagan Executive in 2016.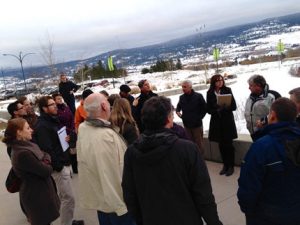 Developed in parallel to, and in support of, the
UBC Okanagan Campus Plan
(2015), the WSIP is a result of a comprehensive technical planning and review process that involved a broad range of staff, technical experts and academics across UBC. The Planning process was led by a multi-disciplinary consultant team, supported by special advisors, and core project team comprised of representatives from UBCO Campus Planning, UBC Campus and Community Planning and UBC Energy and Water Services. Targeted Plan consultations were undertaken with the UBC Okanagan Provost and VP, VP Research, AVP Students, Associate Dean of Engineering, DVC DRT, Deans Council, and externally FortisBC and City of Kelowna. FortisBC provided sponsorship toward this Plan's development.
The WSIP provides a long term roadmap, proposed performance metrics, and a five year implementation plan, to guide future planning, investment and management in a manner that will support sustainable development, community wellbeing and ecological resilience.
---
Full copies of the Whole Systems Infrastructure Plan Summary and Part 1, along with individual PDFs of Part 1 and Part 2's chapters, are available below:
Whole Systems Infrastructure Plan, Part 2
---
Plan Implementation
The Whole Systems Infrastructure Plan's (WSIP) implementation addresses energy demand and supply, carbon emissions, water demand and supply, rain water management, landscape development, campus ecology, biodiversity and engagement.
Learn more.
What is Whole Systems Thinking?
Whole systems thinking is a method to understand how things (elements and systems) are related, and how they influence one another within a whole.
Learn more.