WHOLE SYSTEMS INFRASTRUCTURE PLAN
The UBC Okanagan Whole Systems Infrastructure Plan (WSIP) is an implementation framework of the UBC Okanagan Campus Plan.

The UBC Okanagan Whole Systems Infrastructure Plan (WSIP) provides a foundation for campus growth and development over the next 20 years and beyond,  and addresses energy, carbon, water, landscape, ecology, biodiversity, and engagement to ensure that the campus is resilient to future changes in growth, utility rates, and climate change.  The WSIP has been referenced to develop the UBC Okanagan Design Guidelines and Green Building Requirements among others.
The Plan, in conjunction with the UBC Okanagan Campus Plan, supports a whole systems approach to infrastructure for the campus.  Informed by the unique relationship of the campus to the surrounding landscape and ecology, these plans are referenced with the goal of preserving and enhancing the campus' natural areas and optimizing natural system health through such measures as increased tree canopy, indigenous planting, and contiguous corridors for wildlife habitat.
The WSIP was endorsed by the UBC Okanagan Leadership in 2016 and effective April 18, 2019, is a Plan approved by the Board of Governors under UBC's Land Use Policy (UP12).
---
Plan Implementation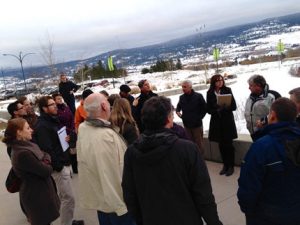 The Whole Systems Infrastructure Plan's (WSIP) implementation addresses energy demand and supply, carbon emissions, water demand and supply, rain water management, landscape development, campus ecology, biodiversity and engagement.
Learn more.
What is Whole Systems Thinking?
Whole systems thinking is a method to understand how things (elements and systems) are related, and how they influence one another within a whole.
Learn more.
---
Whole Systems Infrastructure Plan Summary
Full copies of the Whole Systems Infrastructure Plan Summary and Part 1, along with individual PDFs of Part 1 and Part 2's chapters, are available below: