The development of UBC Okanagan's first Climate Action Plan 2030 (CAP 2030) is underway. The plan will chart a course to accelerate reduction of emissions from our core operations by 2030. In addition, the plan will also identify new ways to reduce emissions in areas that each and every one of our university community members has influence over, including how we travel to campus, our food choices, the amount of waste we produce, and how much business air travel we do.
The CAP 2030 process is also underway at UBC Vancouver. Visit the UBC Vancouver CAP 2030 website to learn about their plan and engagement process.

What is CAP 2030?
In December 2019, UBC declared a climate emergency, which included a commitment to accelerate the reduction of emissions at UBC Okanagan and UBC Vancouver. A key step is UBC's development of a Climate Action Plan 2030 (CAP 2030) for both campuses.
This ambitious initiative is aimed at implementing strategies that will result in emissions reductions from UBC's core operations by 2030 through clean energy solutions and energy-efficient technologies, along with identifying new ways to reduce emissions through our day-to-day activities, including commuting, food, waste and business air travel.
Public Engagement
From March 29 – April 16, 2021, the Campus and Community Planning team led an engagement process for the entire university community across both campuses. This was an opportunity for staff, students and faculty to learn about the emerging UBCO CAP 2030, ask questions, and share perspectives.
Through our online survey and virtual events, we heard from 218 participants from the Okanagan campus about the emerging CAP 2030, and the barriers and opportunities for climate action.
Feedback was specifically around five areas focused on indirect emissions, which are emissions that are related to individual behaviors such as commuting, food choices and waste.
What We Heard
Below is a snapshot of the main themes we heard from the UBC Okanagan community during the public engagement period.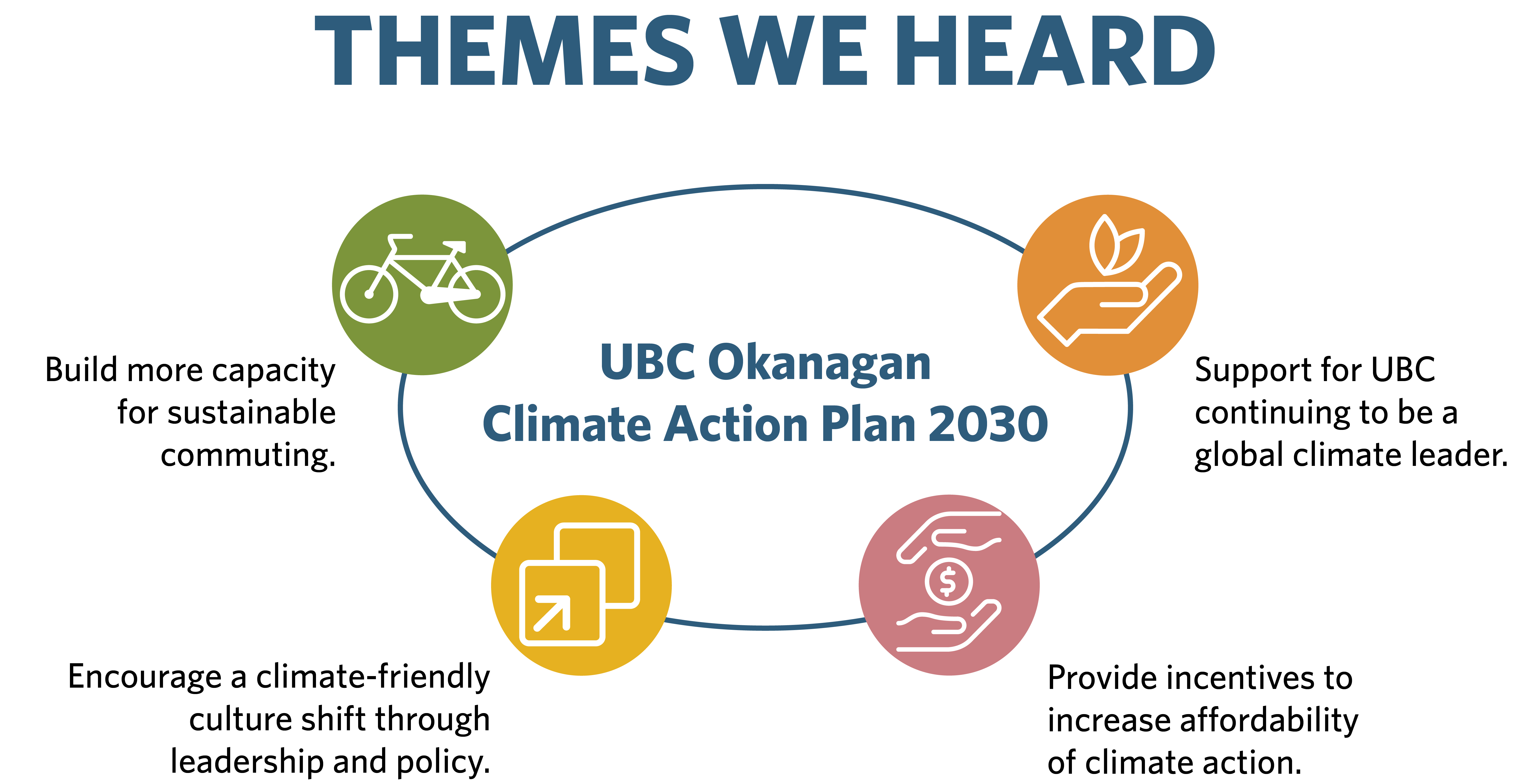 You can also read our Engagement Summary Report to learn more about our public engagement process and the feedback that was collected during this period. Included in this report are the detailed comments received through our public engagement activities, and verbatim survey responses.
Download the UBCO Engagement Summary Report (PDF)
Here's how you can take-action now
The final UBCO CAP 2030 will be presented to the Board of Governors in November 2021. But you don't need to wait until the plan is finalized to start taking action on climate change.
Whether you're a student or staff, there are a number of ways you can take climate action now. Visit this helpful resource page to learn more.
Read this Q&A with John Madden, Director of Sustainability and Engineering in UBC Campus and Community Planning, who also shares his helpful tips on how we can all take action.
What have we done so far?
The CAP 2030 helps advance our strategic plan: Shaping UBC's Next Century and supports the university to further key commitments of its climate emergency declaration. This work builds on past successes in climate mitigation and action on both campuses, which have seen a significant reduction in emissions from core operations. The emerging plans are also informed by the feedback we received from UBC faculty, staff and students through the climate emergency engagement process.
What's next?
The UBCO CAP 2030 will be presented to the Board of Governors in November 2021. This final version of the plan will incorporate direction from the Board of Governors, refinement of targets and actions through on-going studies, as well as input received through public consultation.
March Virtual Webinar Presentation: UBCO CAP 2030 Emerging Directions & Draft Targets