CLIMATE, ENERGY & ENVIRONMENT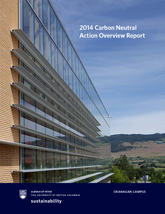 The Government of British Columbia set into motion a comprehensive Climate Action Plan centered on the Greenhouse Gas Reduction Targets Act (Bill 44). According to the Act, all Public Sector Organizations (PSOs) must be carbon neutral in their operations by 2010. This is achieved in compliance with reporting Scope 1 and 2 emissions across buildings, fleet, fugitive emissions, and paper consumption. Carbon offsets are remitted annually to the Government of British Columbia's Ministry of Environment.
PSO's must also submit a Carbon Neutral Action Report (CNAR) for each calendar year which includes a description of the actions taken to minimize its greenhouse gas (GHG) emissions, and plans to continue minimizing those emissions. View UBC Okanagan campus' Carbon Neutral Action Reports
Energy
Measures to reduce energy consumption and greenhouse gas emissions have been undertaken since 2006.
Chronology of Energy Management Activities
Renewable Energy
UBC's Okanagan campus features several demonstrations of increasing energy efficiency and performance by integrating renewable energy into operational consumption activities:
Geo-Exchange District Energy System (DES) – The DES is designed to demonstrate innovation in renewable energy. It provides heating and cooling to all new academic buildings and heating to all original academic buildings on campus. A key component to reducing natural gas consumption and associated utility costs and carbon emissions, the system was fully implemented in 2012 and is in the retro-commissioning phase of its development. In 2012, the transfer of waste heat from the Administration building data centre was integrated into the loop and optimization is ongoing. The system provides energy sharing between buildings, heat re-capture, thermal storage and flexibility for future fuel switching. For more information, click here.
Solar Thermal – Purcell and Nicola Residences utilize solar panels to pre-heat domestic hot water, which helps to reduce natural gas consumption.