WASTE MANAGEMENT
Diverting Waste from the Landfill
UBC's Okanagan campus is promoting numerous recycling activities to preserve natural resources, save energy and reduce the amount of solid waste generated on campus and sent to the landfill. Facilities Management has implemented a campus wide recycling program which includes paper, plastic, refundables, e-waste, batteries, glass, metal, wooden pallets, and garden waste. The Sustainability Office implemented a lab plastics recycling program. Risk Management Services manages hazardous materials including contaminated lab glass, chemical, bio hazardous, and radioactive waste, ensuring these materials do not enter the campus' waste stream.
Waste audits are conducted on a bi-annual basis with measures to educate the campus community about the importance of recycling. Click here to view the waste audit reports previous completed.
---
Improving Recycling Compliance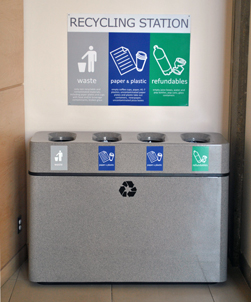 Through a collaboration between the Sustainability Office and Facilities Management, every building and hallway has designated "Recycling Stations" and signage clearly communicating the campus' recycling program. The aim is to initiate behaviour change and to eliminate the contamination of recyclable materials.
The campus' current waste streams include:
Blue Bins – Recyclable Items
paper, plastics
empty coffee cups
plastics #1-7, newspaper
uncontaminated paper plates
plastic take out containers and pizza boxes
White lab plastics recycling bin contents are deposited into these containers
Green Bins – Refundable Items
empty juice boxes
water and pop bottles
pop cans
food product glass containers, rinsed
Grey Bins  – Waste
contaminated/soiled materials
paper plates and cups with large amount of food and/or beverage
broken glass
Yellow Bins – Organic Materials
coffee grinds
vegetable matters
no meat or dairy products
---
Composting Program
Every kitchen facility on campus has 20-gallon bins which are filled and emptied into two large 'Earth Tubs', composting an average of 150 pounds of pre-consumer organic waste daily. Once the Earth Tub's 4,000-lb capacity is reached, the high-quality compost inside will be used to enhance soil quality on the grounds, diverting a substantial amount of organic waste from the landfill and saving money on disposal costs.
Yellow compost bins are now located in the main floor foyers of each academic and administration building on campus, ready to receive discarded food waste, organic material and smaller compost bin contents. Smaller compost bins have been placed in collegia and departmental lunchrooms across campus and will be emptied into the yellow compost bins on an as required basis.
Visit the compost website for more information.
---
Battery Recycling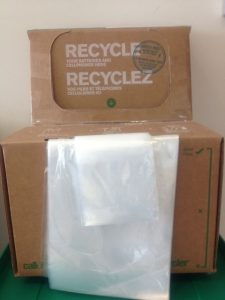 All used batteries and cell phones can be placed in the new battery collection stations with locations around campus. These brown cardboard pop-up boxes will accept batteries and cell phones that are no longer needed. Each battery or cell phone must be wrapped in one of the supplied plastic bags and placed inside the box. All batteries that are smaller than 11 pounds (5 Kg) are accepted. Once a box is full, Risk Management Services (RMS) will package the box and send it to Call2Recycle
Current battery collection stations include: Fipke 1st floor, Science 1st floor, UNC 1st floor, Arts 1st floor, ADM 2nd floor, Library 2nd floor.
For more information contact cherie.michels@ubc.ca.
---
Lab Plastics Recycling Program
The Sustainability Office, Risk Management Services, Payment and Procurement Services, and Facilities Management are working together to eliminate recyclable plastics from the campus waste stream. As a key action toward the achievement of this goal, a Lab Plastics Recycling Program was developed in 2010 to capture and recycle all plastic packaging and non-hazardous plastic lab products supplied to our campus laboratories.
This program will contribute to future sustainability initiatives in UBC's Okanagan labs. For more information click here.
---
Scrap Metal Recycling
Scrap metal that UBC Okanagan collects for recycling includes: Steel, Stainless Steel, Aluminum, Tin, Brass, Copper, Electrical Wire, and even appliances and large equipment!
If you have scrap metal or uncommon items that can be recycled, please enter a work request with Facilities Management to arrange a pick-up time. All scrap metal and other uncommon recyclables are collected by Facilities Management to be diverted from landfills and stored at the e-waste station in the Quonset facility on campus. Collected scrap metal is acquired by local recycling facilities where it is sorted and sent out for further processing.
Scrap metal can be recycled repeatedly. In fact, the Canadian Steel Producers Association claims that "steel is the most widely used and most recycled material on Earth" (http://canadiansteel.ca/steel-facts/). Recycling scrap metal and other items on campus is easy, economical, beneficial for the environment, and helps to reduce UBC Okanagan's environmental footprint.
---
E-Waste & Universal Waste
These are materials that may have hazardous components that can contaminate our air, water or soil if disposed of improperly. Please do not throw these materials into the waste stream.
E-waste such as old computers, televisions, computer parts, fax machines, printers, copiers, cell phones, stereo equipment and appliances, please send an online work request to IT Services for proper routing of recycling.
---
Wooden Pallets
Many products that are received come delivered on wooden or plastic pallets. Departments that receive goods and have the pallet as a by product can make arrangements to have Facilities Management remove the pallets to where they are stored until the quantity is sufficient to call a local company to pick them up where they will be re-used for future shipping or make into lawn furniture.
---
Recyclepedia
A-Z Recyclepedia

A-Z Recyclepedia, a list of everything that can be recycled, returned or composted on campus.